HMS Roedean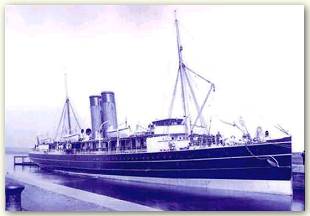 The Roedean started life as the Roebuck (this photo actually has the original name still on the bow although it is indecipherable here), built at Barrow in 1897. She was renamed and converted to a minesweeper in 1914 by the Royal Navy and eventually hit a mine and sank in 1915.
Rod Macdonald gives a good description of her lifetime afloat, but this is the first time I have seen an actual photo of her.
The Roedean now lies in 15m of water near to Longhope and about half hour steam south of Lyness. The wreck was blasted twice to clear her superstucture so little now remains intact. For this reason she is seldom dived.
Having said that, there is no accounting for taste. Dave thoughly enjoyed this dive and asks for it by name every time he comes to the Flow.