Scapa Flow Charters
Jean Elaine and Sharon Rose
---
Archive pages: as time goes on we will be cataloging all the diving sites in Scapa Flow, Orkney, Shetland and beyond. Anywhere visited by the Jean Elaine will be documented here so you can see for yourself the range of diving offered by Scapa Flow Charters.
I see that some people are trying to rubbish our dive trips to the U102 and U92 amongst other things by suggesting that we did not actually identify them. This is unfortunate but we totally stand by that we have correctly identified them in the first instance. Before we make claims there are hours of research work done first, I know this is not everybody's cup of tea but without the efforts of the researchers it would be a heck of a lot harder, again thank you to Kevin Heath, Michael Lowrey and Mattias Loehr.
Hot of the Press
U92 Dived for the first time.........
We have a group of four divers onboard this week who have had a very succuessful trip with us, first up was the Carribean which we located before but a good warm up for which was to come, On Thursday they dived a virgin wreck and today Friday 15th the U92 was located and dived for the first time just follow the above link to ready about the dive
U102 Dived for the first time.....
We had a group on the Jean Elaine lead by Paul Jackson who were hoping to get up to Shetland, on Sunday the decision was made to just go to the North Isles, on Monday night the boat was surrounded by a pod of 8/9 killer whales (Photos to follow)...Then on Tuesday 5th June some of the group dived on the U102, as the sub was only discovered a few months ago there were cheers all around... full story to follow: please follow this link to find more information on the U102 Photos of the crew, and the sub now on show along with stories by the divers and also information from Matthias Lohr who was the great great nephew of one of the crew onboard the U102.
---
You Tube Video by Hamish Torunski
Coast Guard Practice whilst on a trip in Shetland
First Divers of the 2007 Season
Scapa Flow Diver Location Trials
New Video Footage
Courtesy of Ben Fields © Ben Fields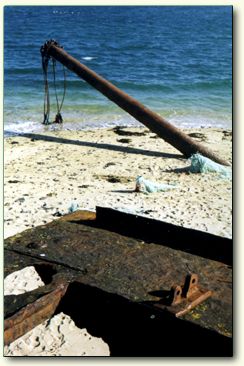 Not all the wrecks are in the sea: sunk as a blockship, this ship is gradually moving inland!