---
Below we have listed just some of the places that the Jean Elaine takes divers.
For a full description visit the archives which will, in time, provide a full listing and description of each of these sites.
---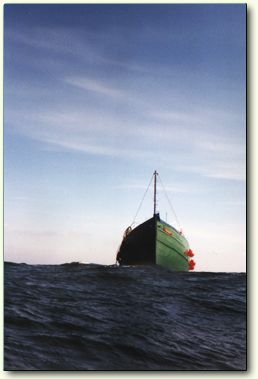 German High Seas Fleet; Kronprinz Wilhelm, Markgraf, Brummer, Coln, Dresden, Karlsruhe, Bremse, Bayern gun turrets, Konig, V83, S54, High Seas Fleet Scrap Yards, Derfflinger, Hindenberg, Von der Tann, Moltke, Sedlitz, Burra Sound; Inverlane, Gobernador Bories, Tabarka, Doyle, Budrie, Ronda, Rotherfield, Urmstone Grange, Burra Sound Drift, Gutter Sound, F2, YC21 (barge), Mara, Bottle Dive, Imbat, HMS Rodean, James Barrie, Strathgary, UB116, Radiation, Speedboat, Churchill Barrier Blockships; Thames, Stanger Head, Barrel of Butter, HMS Royal Oak, HMS Vanguard, HMS Prudentia, Churchill Barriers, Numibian, Thames, Busk, Rosewood, Lycia, Ilsenstein, Teeswood, Cape Ortegal, Elton, Emerald Wings, Lapland, Gartshore, Empire Seaman, Martis, Carron, Naja, Clio, Pontos, Collingdoc, Scenic Diving; Switha, Inganess, the Kame of Hoy, North Shoal, Nipple Rock, Rora Head, Cantick Head, West Coast, HMS Hampshire, Shoal, North Isles, Halcro Head, Aorangie, Hastings County, Rerwick Head, Tennessee, SS Loch Maddy, Copinsay, Endeavour, Boom Defence Vessel, The String, Morvina, Keli Holm, SS St Rognavald, Noup Head Westray, Tomalina, Red Head, Admiralty Tug Char, Bella Vista, Foul Craig, Llama, Cotavia, Swiftsure, Lamb Head, Runnabrake Shoal. Start Point, Aberdeen City, Goldfinch, Tosto, SS Charkow, SS Ruby, Boy Graham, Scandanavic, Danzig, Fair Dawn, Mistle, MS Mim, SS Hansi. Unknown wreck off Deerness, SS Svinta, Zarefah, Danmark, Ilene, Svecia, Kron Prinsen, Crown, Spanish Armada ship, Utrecht, to name but a few.....


All material &copy SFC/Teddy Fats